PTA
Broadview-Thomson PTA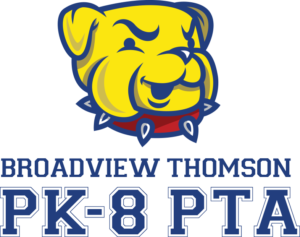 Broadview-Thomson K-8 has a strong and supportive PTA. The PTA meets on a monthly basis to coordinate many aspects of our school from volunteer coordination, budgeting, fundraising, and planning community events.
Throughout the year Broadview Thomson hosts a variety of family events with the partnership of the school and the PTA. In addition, they plan the different fundraising events that lead to much needed financial support for our school.
They help coordinate the room parents for each classroom, the volunteers for picture day, the yearbook, and soon.
To learn more about the Broadview Thomson PTA, please visit their website: